Banking fraud is no joke, and as many businesses have adapted operations in 2020, it has given fraudsters new avenues for exploitation. 
In fact, financial fraud complaints in the U.S. increased by more than 104% in Q1 of 2020 alone when compared to the same quarter of 2019. 
However, this doesn't mean that business owners are hopeless against banking fraud — it just means they need to have the proper fraud protection protocols in place.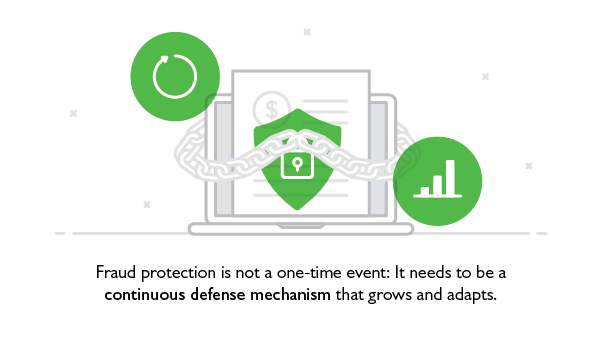 Safeguarding your funds
What many business owners might not be aware of is that there are simple security protocols they can implement into their day-to-day workflow that will help them stay vigilant. And by incorporating these efforts in partnership with their cash management services provider, business owners have a new line of defense against fraudulent attacks.
With the support they need, companies can focus on other aspects of running the business, like driving revenue, optimizing customer experience and innovating new products.
Here are four security features that should be given immediate attention:
4 cash management security protocols 
When researching online cash management services, make sure it can reliably safeguard your funds by incorporating the following:
Positive pay: Positive pay allows business owners and their bankers to identify suspicious ACH or check payments. A straightforward protocol, it matches the checks a company issues with those presented at a bank.
Stop pay: This feature allows a business to cancel payment on any number of potentially fraudulent checks. Stop pays can be initiated on a check-by-check basis or all at once depending on the severity of the fraudulent risk. 
Multi-factor authentication: Multi-factor authentication requires two or more authorizations before electronic funds or wire transfers can be sent. While this is a simple concept that the average user is familiar with via their usage of smartphone apps, implementing a strategic 2A or 3A solution in partnership with a cash management services provider will make for a seamless process — for the business and for customers.
Permission-based access: This safety feature restricts access to various services to only authorized users. Granting multiple members of your organization appropriate privileges or restrictions as necessary is key to a companywide security policy. You can define, segment and grant credentials in a way that makes sense to your business and its level of risk tolerance. For instance, common options include access control via job role, time of day or location.
An added bonus layer of cash management security would be Dual Control which requires two people in order to complete a single wire transfer or ACH batch transaction.
There are many types of security layers that your organization should have in place, and incorporating several is necessary. Additionally, integrating new security technology in a holistic, methodical process will ensure security is right-sized to your organization — not a patchwork of various applications and vendors.
Sadly, the efforts of fraudsters evolve and advance right alongside — and often ahead of — new security initiatives. This means fraud protection is not a one-time event: It needs to be a continuous defense mechanism that grows and adapts.
As a responsible business owner, be attuned to various forms of banking fraud that exist in the workplace today and alert to those potentially on the horizon. 
Bank Midwest's Business Support team is committed to helping business owners prevent fraud and safeguard accounts with our online banking and cash management services.
---
Learn more about Treasury Management
Digital cash management is one piece of the puzzle.  Our article on the basics of treasury management summarizes everything from making ACH payments and payroll to receiving online customer payments, paying credit card statements and managing overall business cash flow.